146 minutes later and SATC 2 can be ticked of my list for must see movies. You would think over 2 hours of fabulous fashion would be enough but it's left me with wanting more. Chapter 2 of Sex and The City focuses on the positives, negatives and issues marriage/single life can face. One thing this film is defiantly not lacking is campness with over exaggrated plots and laugh out loud moments which make you want to burst out of the cinema, meet up with your gals and drink cosmopolitans till you can turn all the bad moments in your life to juicy gossip. Don't mistake this post as a movie review, see it as a fashion review and some of the best designer outfits to hit screens since The Devil Wears Prada.

Karaoke Chic - Samantha brings back 1908s wearing The Blonds for Noir Jewelry who have seen Katy Perry, Fergie, Rihanna and Lady Gaga sporting their collection of jewellery. Sequins always make the best disco nightclub outfits.

When fashion expressed individualitywith over the top accesories, studs and embelishments. Headphones may have changed over the past years to bulky black cushions to smaller in-ear speakers but I do love the originals. H&M love them too with their Fashion Aginst Aids fashion range for 2010 with zebra and gold covered speakers.
All you need to do is look at Madonna's 'The first album' to see the inspiration behind Caries style Charlotte acts like vanilla against Carries statement dressing.

John Galliano for Christian Dior - Spring 2000 'newspaper' dress. Previously worn in SATC series 3.

The Carrie Bradshaw we thought we lost. Who else can pull off such a casual yet high fashioned look?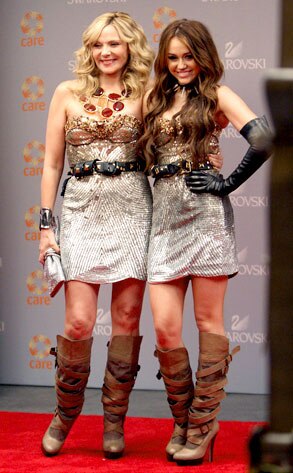 Fashion wars - Miley Cyrus vs Samantha Jones in Matthew Williamson.

Harem pants have been like marmite for this season, but love them or hate them, they are a must have for your summer getaway.
Where New York fashion meets Abu Dhabi. Carrie - Chanel gold clutch and Christian Louboutin pigalle heels.
Desert Chic has never been so appealing.
One of my favourite fashion moments from the film, who else would dress in high fashion for a camel ride?
My favourite fashion item from the film has to be the masquerade ball sunglasses from Chanel, seen on the SATC poster. The idea of creating sunglasses into a whole new accessories is genius, although putting these sunglasses away in your handbag is near impossible. But hey who said fashion is mean to be practical?
SATC 2 brings back more of the TV series that was missed out in the previous film. It also brings you closer to the gals lives and relationships making the film fun, fresh and fabulous.
Although dreams of living in New York city are still but a dream, watching the film gives you a feel of that cosmopolitan lifestyle with a soundtrack to transport you right to the city centre. So for now I leave you with one of those songs that make New York city a Mecca for all.